Please check out the National Honor Society Press Release regarding it's recent Pet Drive!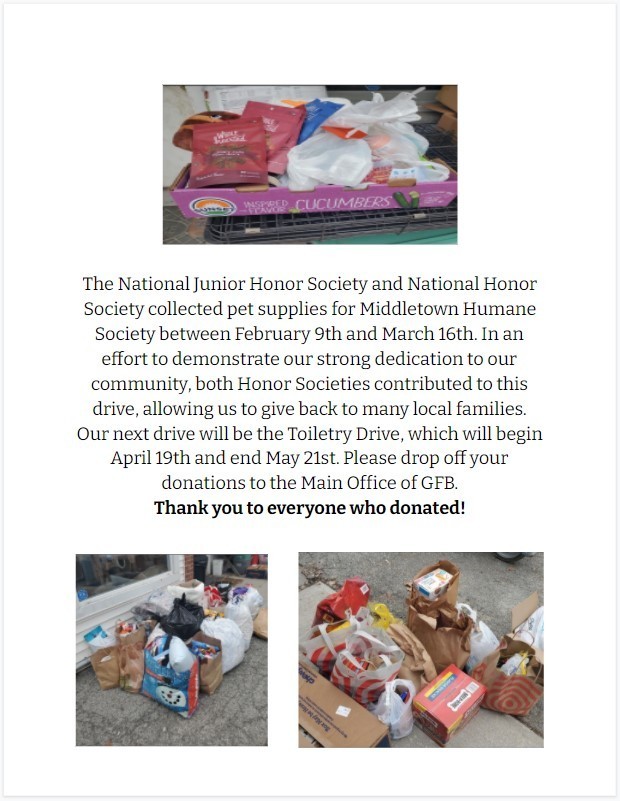 Click on the link below for April's updates and information for Tuxedo families:
https://5il.co/rf6j

Join us April 14th @ 4:30 as Marie Castricone, District School Nurse explains the tell-tale signs of COVID-19 related symptoms, when to keep your child home and what to do if you suspect it's allergies or another known condition. Share your questions ahead of time when you register. Virtual session via Google Meet Link to Register:
https://forms.gle/XZD1SKtq7SCuvyB66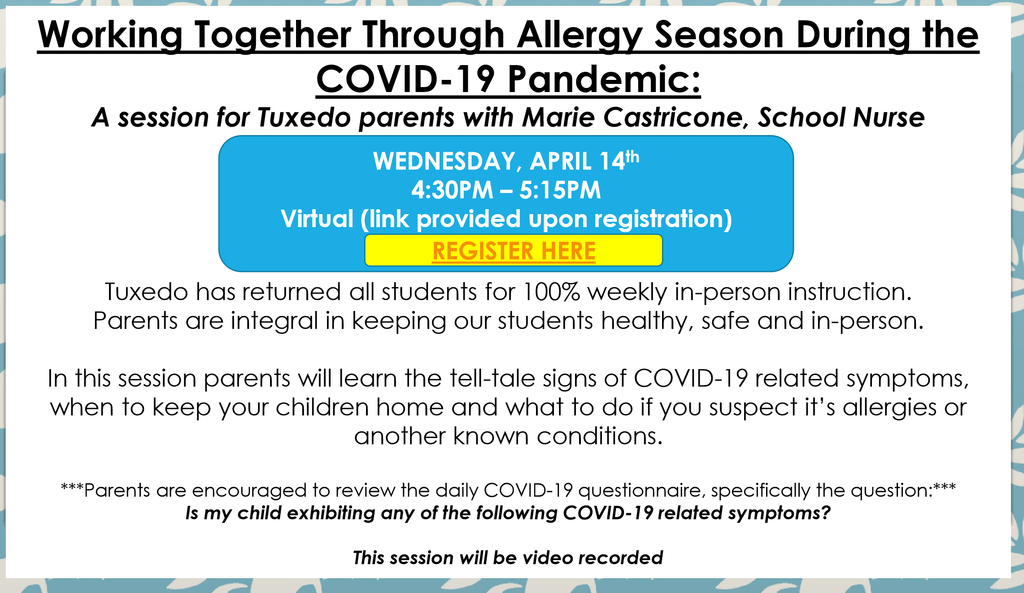 Tuxedo UFSD will be hosting a summer program for students in grades K-12. Interested? Please take this brief interest survey by April 15th to help us plan:
https://forms.gle/GhPJEjvSN5GVmBwbA
Information on registration to be shared at a later date.
The Board of Education will hold a Work Session meeting tomorrow night, Thursday, April 8th at 7pm on the 2021-2022 Budget . Info & Details:
https://www.tuxedoufsd.org/events
The Board of Education will hold a Special Meeting tomorrow night, Tuesday, March 30th at 7pm. Info & Details:
https://5il.co/r12v

Please note that the confirmed case reported to the District today is a separate, NEW case. Today's case is Community Notification 4. Yesterday's case was Community Notification 3. If you were directed to quarantine or have your child quarantine due to yesterday's reported case, continue as you were directed.

Tuxedo Modified Volleyball wins its first game of the season! Thank you everyone who made this happen for our students. Tuxedo: 1 Goshen: 0 GO TORNADOS!
7th Grade Class President, Christopher Chacko, donated Krispy Kreme donuts to Healthcare Workers at Good Samaritan Hospital in Suffern. The donuts were purchased by Chris through the 6th-8th Grade Class Fundraiser run by Ms. Park and Mr. Fitzsimmons. A big "Thank-You" goes out to these Health Care Heroes for all the sacrifices they have made for the community, to Ms. Park and Mr. Fitzsimmons for providing the opportunity and to Chris for taking the initiative on this act of kindness!

NOTICE OF SELECT PIVOT for 3/26: Due to a confirmed case of a student at George Grant Mason Elementary School, be advised the following grades will pivot to 100% remote, synchronous instruction from home for George Grant Mason School and George F. Baker High School: Grades 3 - 12. Link to Community Notification can be found here:
https://5il.co/qxv5
PIVOT para el 26 de marzo: debido a un caso confirmado de un estudiante en la escuela primaria George Grant Mason, tenga en cuenta que las siguientes calificaciones cambiarán a instrucción 100% remota y sincrónica desde el hogar para la escuela George Grant Mason y la escuela secundaria George F. Baker: Grados 3 - 12. El enlace a la notificación de la comunidad se puede encontrar aquí:
https://5il.co/qxv5

The Board of Education will hold a Special Meeting this Thursday, March 25th. Notice & Info:
https://5il.co/qu1v
The video recording of last night's Board of Education meeting is now available on the district website:
https://5il.co/qs4r
More photos from the Bird Box event.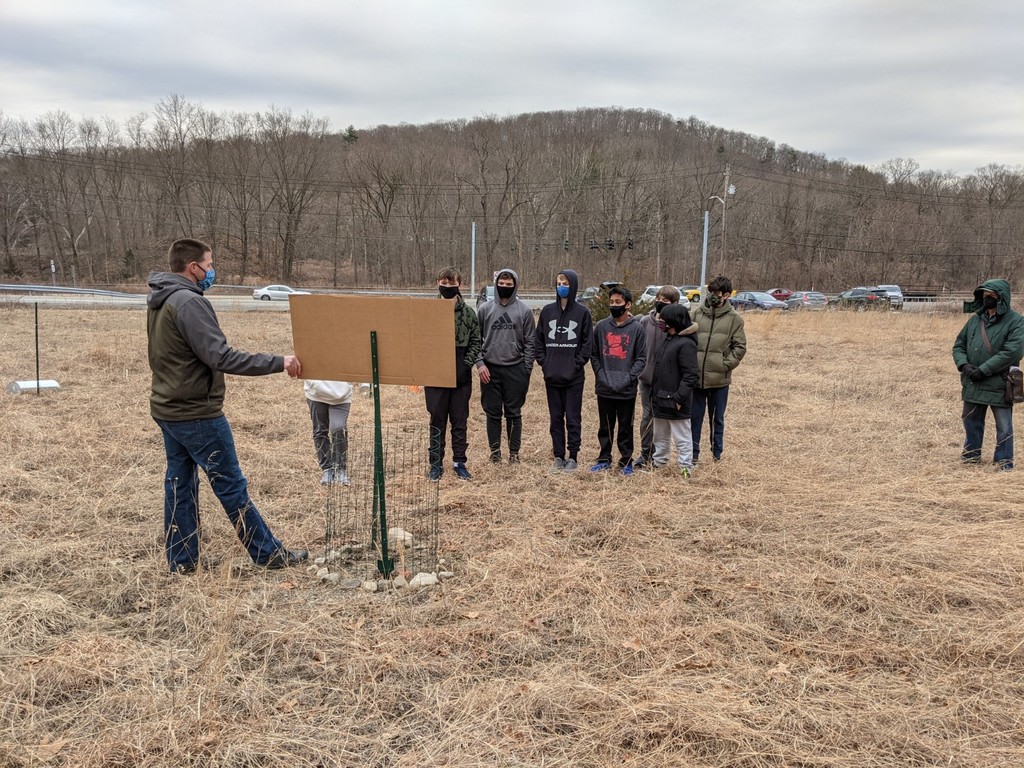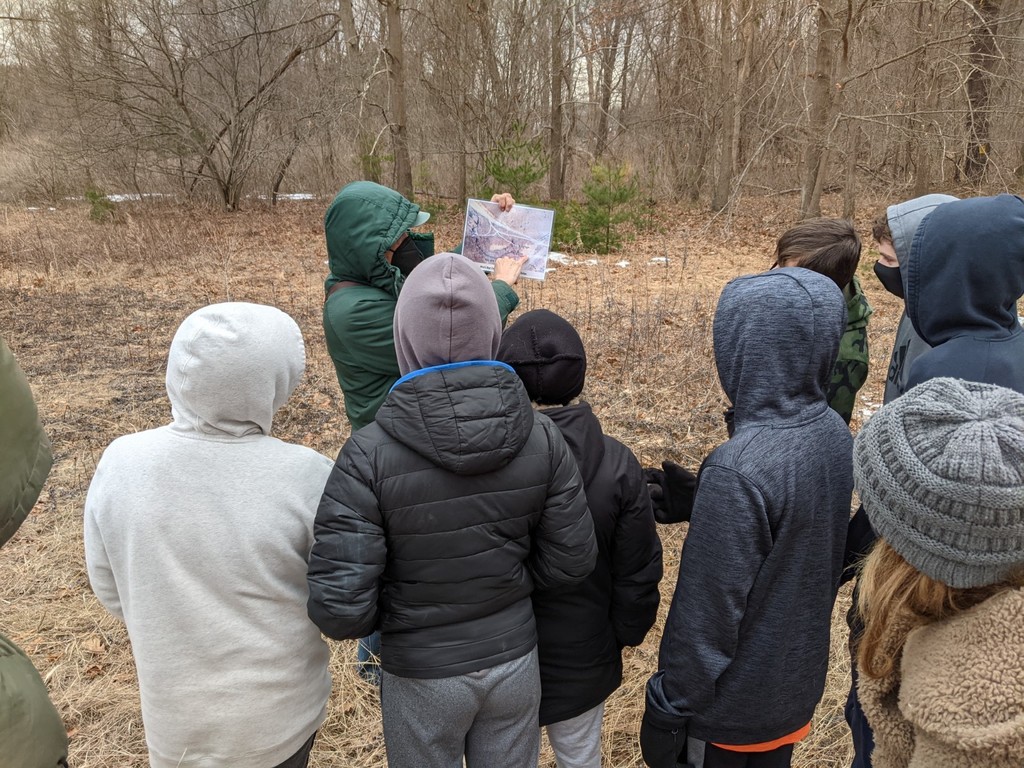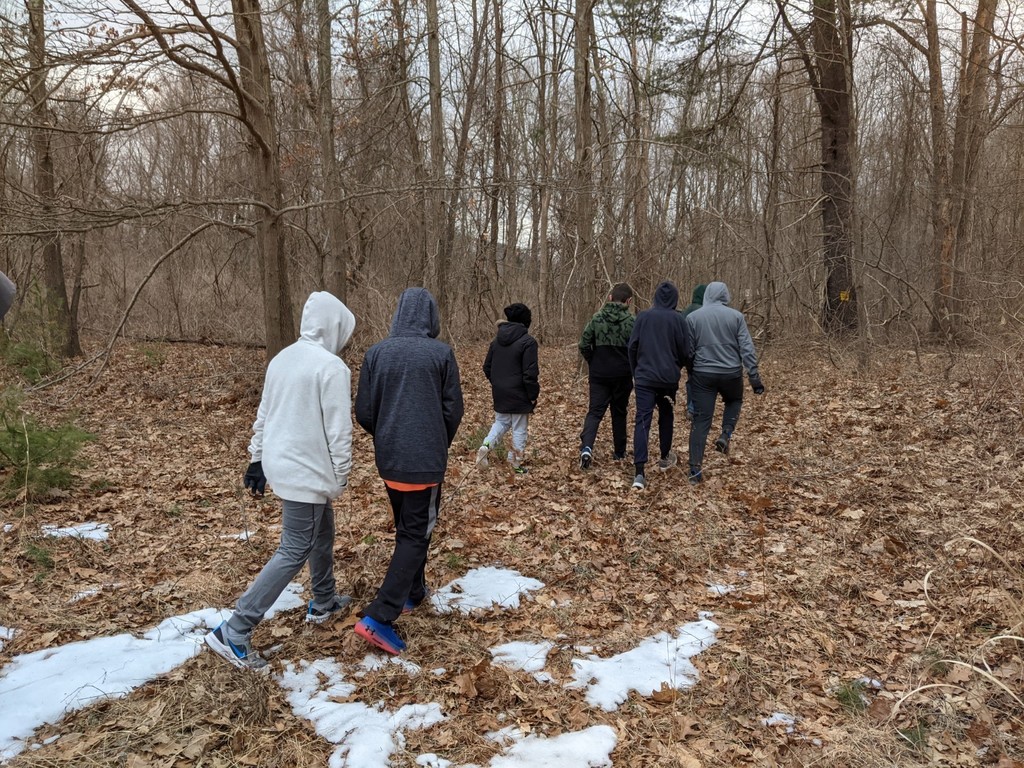 On Tuesday, March 16th, members of the National Junior Honor Society went with Kelly Spranger and Louise Maretzo to help the PORE committee of Tuxedo install bird boxes. Sue Scher and Ginny O'Neill were also present and representing the PORE group (Parks Outdoor Recreation Entertainment). Under the direct supervision of Tom Fuller, our local bird expert, they installed 2 bird boxes (that were assembled by the students previously) in the lower field of the original Study of Insects Station. This area is being revitalized by the Tuxedo organization to become a Pollination Station for butterflies and other pollinators. The field will also be a home to these bird boxes which hopefully will attract blue birds which are endangered. Donald "Doc" Bayne, the President of the Friends of Sterling Forest State Park (and our local expert on "all things nature"), did a short presentation and led the students on a hike to the site and explained what it used to look like through photographs of the original area. The PORE committee in Tuxedo is actively looking for volunteers to rid the field of invasive plant species and to monitor the bird boxes. These efforts will help our Pollination Station grow in Tuxedo Park. If any students would like to participate in future pollinating activities, please feel free to contact Kelly Spranger at
kellyspranger@msn.com
or Ginny O'Neill at
goneill@rcls.org
.